Filter by Subcategory
By Topic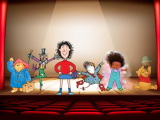 Creative Drama Class 5-8 yrs
with Amanda Morrell

Feb 18, 2023 at 9 am
Jump into this class of imagination!
Students will participate in theater games and exercises that encourage creativity, self-expression and collaboration. They will explore the art of storytelling using different vocal techniques, physical movement and improvisation.
Ages 5-8 years old.
Saturday 9:00-10:00AM
February 18, 25
March 4, 11, 18, 25
April 1, 8
Instructor: Amanda Morrell
Light on Your Feet- Saturday, 10AM-11AM Ages 13 and up
with Amanda Morrell

Feb 18, 2023 at 10 am

, runs for 8 weeks
February 18, 25
March 4, 11, 18, 25
April  1
9:00-10:00AM
An energizing dance-based, fitness class with easy to learn choreographed routines to some of the most popular Broadway show tunes! Students/ participants of any fitness level are welcome and will be able to participate in numbers that can be modified to their fitness levels or abilities. Combining several elements of a well rounded workout, Light on Your Feet will incorporate choreographed mixed interval training and movements to help improve cardiovascular health, balance, strength, and flexibility. Not only will this class be a great workout and a super fun time, but you're also sure to leave feeling fantastic and humming some catchy show tunes! 
*Amanda Morrell is a certified Zumba Instructor